1. New Story Quests

Episode 2 Chapter 1 "Unknown Road Guides the Way"

- Act 1 "HIS WILL INHERITED"
- Act 2 "HER WILL NOT INHERITED"
Episode 2 Chapter 2 "To Here and Ahead Again"

- Act 1 "CLEARANCE OF THE PAST"
- Act 2 "CALCULATION OF THE FUTURE"
Episode 2 Chapter 8 "Beginning of the End"

- Act 3-L "A STEP TOWARD THE FUTURE"
(Unfolds by completing Act 2 "CALCULATION OF THE FUTURE" route)


2. New Race - 4th race - Deuman





Note:
* There will be a 1 FREE character slot for everyone this release of Episode 2
** "Characters displayed on the character selection screen will be sorted so that the character logged-in at last will appear on the top of the list.
Therefore, when user creates a new character, former existing character(s) will be displayed on 2nd row or lower row of the character selection list.
When deleting a character, please double check and make sure you confirm the character name and appearance before actually deleting the character."
3. New Class : Samurai




Katana Skill
Bullet Bow Skill
New Weapons : Katana / Bullet Bow

Katana

Bullet Bow


4. New Photon Move / Photon Magic
5. New Map and Monsters :

The Shore





New Monsters

Bal Lodos




Orgbran



New ARKS Quest

"Coastal Area Ecological Survey"



Environmental Mission: Coast



Quest "Eliminate Orgbran"




Explore the Coast



New enemies


6. Increased Max Level Main Class from 55 to 60 Level, Sub Class increased from 35 to 40


7. More Client Requests as follows :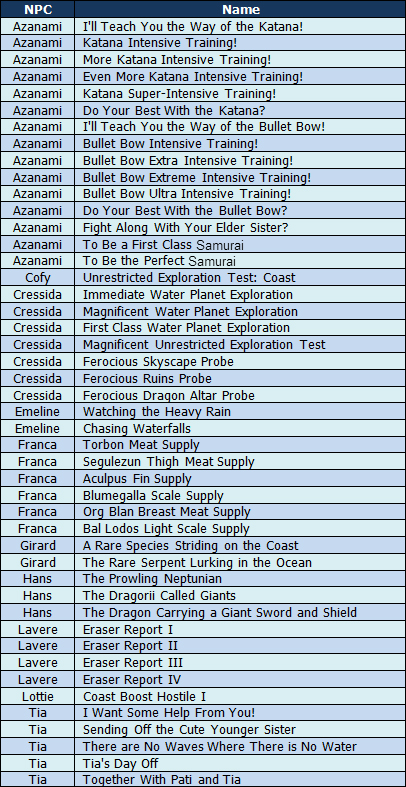 Daily Request



Team Request

8. Paradigm Matrix 12 "The Destination of a Changed Path" & Paradigm Matrix 13 "The Will of Tomorrow"
9. New Extreme Quest "Extreme trial : Frozen Ground and Armor"

"Extreme trial : Greenscape and Dragons"
* Extreme Pass must be used for every player
Extreme Pass can be obtained from NPC "Prin", NPC "Cofy" or redeem from the X-cube Exchange Shop, Pyroxene & Magical Gem Shop
10. Lobby's Theme "White Days" (From 5th March - 26th March)
11. Rappy Lovey Rappy
Lovey Rappy Items as follows
- Al Rappy Barrel (Lovey Rappy level 1 and above)


- Blue Rappy Fan (Lovey Rappy level 1 and above)
- Blue Bouquet Rifle (Lovey Rappy level 21 and above)
12. Added Raid Quest :

"The Raging Black Arm"



"Unfathomable Darkness [Elder]"



Season Urgent Quest "A Hectic White Day"
13. Changes in shop

AC Shop
Remove XP Earned +100% (3 pieces) and XP Earned +100% (10 pieces) from shop (duration of item 30 minutes)
Add XP Earned +150% (3 pieces) and XP Earned +150% (10 pieces) (duration of item 60 minutes)




Fun Shop added items


My Room Shop added items


Recycle added items
Extra-Large Upgrade Boost

Badge Exchange added items


Ex-Cube Exchange added items


Pyroxene & Magical Gem Shop added items

14. Add Augmentation in Costume from Completion Reward

* Augmentation of Costume will be released on March 5 2015.
15. added Arks Bingo "White Day Bingo" with a special prize when conditions are met


16. Kuhna Live Stage "Our Fighting"

Other Changes
1. Free partner list will not show anymore
2. There will be no moratorium hours to cancel the character deletion
3. Free Reset Skill Tree for all
4. Mag Level Cap raise to 175 (Can evolve to third form)

Notice : Asiasoft reserve the right to change details without notice

The PSO2 Team would like to thank all the users who choose to use our services. The team is committed to develop better services to meet high customer satisfaction.

Team Phantasy Star Online 2